We hope you found Part 1 of our User Guide series helpful. Now that you've signed up and have an account with Supplycart, you can now start to shop from our seven verticals!
Get your virtual carts ready, it's time to re-stock your office essentials!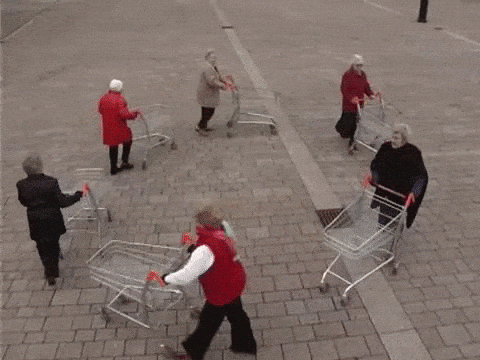 Gif source: Giphy
Adding Items into Your Cart
Step 1: Select a vertical or search for your item
If you're wondering what we mean by verticals, it's the categories of products we offer on our website. You can find each vertical at the top of our landing page.
An alternative to clicking on a vertical would be searching for an item in the search bar. Just type in what you're looking for and hit the search button.
Step 2: Add items into your cart
Once you're done looking for your item, you can now add it into your cart. Just click "+" button and your cart will be automatically updated with the selected item.
Once you're done adding items into your cart, you can now proceed to checking out!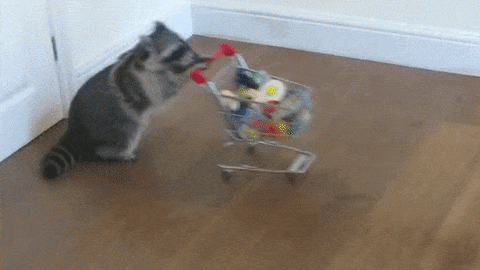 Gif source: Giphy
Checking Out
Step 1: Click on the "cart" icon
Upon clicking on the cart icon this will appear on your screen:
Step 2: Click "Go to cart"
By clicking "Go to cart" you'll be able to see a summary of what you've added to your cart. You'll also be able to see the total amount in RM of what you've added into your cart.
"Go to cart" also allows you to remove items easily and it will auto-update your cart.
Step 3: Confirm your delivery address and select payment
Do take time to double check your delivery address. You also have the option to enter a different address.
You can then proceed to click the "Select Payment" button.
Step 4: Select your payment method
We have three payment methods available :
Credit/Debit Card – enter your card details.
Online Banking – Pay online using your bank account. We accept Maybank2U / CIMB Clicks / Hong Leong Connect / RHB Now / Alliance Online / AMOnline
Credit Terms – We offer credit terms up to 30-days for your orders. After you place your order, our team will follow up with your credit application.
Step 5: Review and place your order
Take one more look at the items you've decided to order and review your receipt which includes the GST amount.
You'll enjoy free delivery if you order RM 200 and above from a category. You can also enjoy free delivery if you purchased RM 200 and above from the "pantry" and "stationery" vertical.
Once you're done reviewing your order, click "Place Order" and an order confirmation e-mail will be sent your way!
And you're done! As easy as ABC! Happy shopping from all of us at Supplycart 🙂
Gif source: Giphy
---
Enjoy your staple office beverages at lower than hypermarket prices! Offer ends on 27th July at 3 PM. Limited stocks available so grab yours here today! Terms & conditions apply.
Yet to sign up with Supplycart? Find out how you can do so in Part 1 of our User Guide! You can also find out how you can use our special website features in our future segments of the User Guide series!
You can now read all Supplycart How-To parts, here:
---
At Supplycart we want you to #workhappy! So let us handle all your office needs– from replenishing  your pantry to restocking your office supplies, Supplycart is here to manage your office better. For more on our hassle-free service, visit our website at supplycart.my.
Enjoyed what you read? Scroll down and click the "follow" button to subscribe to our blog!