Welcome to Part 3 of Supplycart's User Guide series. In Part 3, we would like to introduce you to the "My List" feature on our site. If you missed the previous parts on signing up and adding items to your cart, you can find them here:
Part 1: Signing Up
Part 2: Adding Items to Your Cart and Checking Out
Now that you have an account and know how to add items into your cart, you're able to access the "My List" feature on our website.
The "My List" feature was created for your online shopping convenience. With "My List", you can now create a shopping list that can be saved for your future purchases.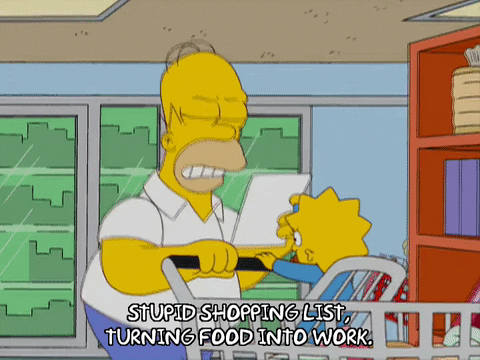 Gif source: Giphy
With "My List", shopping for your office items got a whole lot easier and you certainly won't feel burdened the next time your colleagues pester you to shop for items for your workplace. And you most definitely won't view getting food for your office as "work" unlike Homer Simpson above!
Here are the steps on using the "My List" feature:
Step 1: Go to "My Account" and select "My List"
Once you're logged in, you'll be able to see a "My Account" tab on the top right hand corner. Click on "My Account" and select "My List" from the drop down menu.
Step 2: Choose a list
Once you're at the "My List" page, you have the option of either creating a new list or using the default list we've created called "Monthly Pantry Order". You can find the list names on the left side bar of the page.
Step 3: Create a list
You have the option of creating a new list. It's super easy! Click on "+Add a new list" and enter the name your list. Once you're done click on "Create List" and your new list is now made!
Step 4: Add items into your list
Go to a product category and select the item you want to purchase. You can add the selected item into your list by clicking "Add to List". A drop down menu will appear with the lists you've created.4
Step 5: Add "My List" to cart and check out
Once you're done shopping and adding items to your designated list, you can now check out. Simply go to the "My List" page as instructed in Step 1. When you've reached the "My List" page, click the "Add this list to cart" button. A confirmation message will pop-up to say you've added your list to your cart.
Once the list has been added to your cart, you're prepared to checkout! Not sure how to check out? Read all about checking out your cart in our previous User Guide, which you can find here.
Step 6: Explore other "My List" features
The next time you decide to place a similar order with Supplycart, you can head to "My List" straight away to save time! With "My List", you don't have to go through the hassle of individually choosing the items you frequently purchase, you can easily find them under "My List"!
"My List" is also customisable, you can add in more items, remove items and even move items to a different list!
---
If you missed the previous parts of the User guide series, you can read them here:
---
At Supplycart we want you to #workhappy! So let us handle all your office needs– from replenishing  your pantry to restocking your office supplies, Supplycart is here to manage your office better. For more on our hassle-free service, visit our website at supplycart.my.
Enjoyed what you read? Scroll down and click the "follow" button to subscribe to our blog!